2020 Mazda MX-5 First Look
By jlambert | Posted in Uncategorized on Sunday, December 22nd, 2019 at 5:18 pm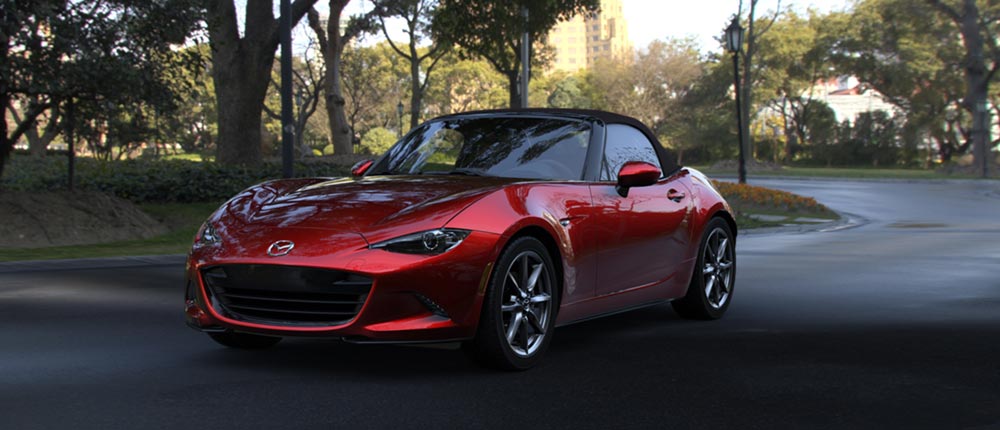 The Mazda MX-5 Miata recently celebrated its 30th anniversary. This vehicle is an impressive sports car that offers you incredible performance and a stylish look.
The 2020 MX-5 Miata gives you a sleek and smooth style that is inspired by roadsters of the 1960s. This vehicle has features like round taillights that nod back to its heritage, but it stays up to date as well, with features like LED low beam and LED high beam lights. This convertible sports car is available with a soft top, or a hardtop called a retractable fastback.
What else does the 2020 MX-5 have going for it? You can check out more details about this vehicle below. You can learn all about what the 2020 Mazda MX-5 Miata has to offer you.
Enviable Performance
The Mazda MX-5 is not the sports car that offers you the most power, but it offers you one of the most fun performances. This is because the MX-5 Miata accelerates quickly, handles superbly, and is excellently balanced to maximize the overall performance.
For 2019, the Miata upgraded its engine. The new 2.0-liter four-cylinder engine produces 181-horsepower for an increase of almost 30-horsepower from the previous engine. This engine also gives you 151 pound-feet of torque, and it can be paired with a six-speed automatic or six-speed manual transmission. When it comes to fuel economy, the Miata is also impressive. This vehicle gives you 26 city and 34 highway miles per gallon, which is impressive for a sports car.
This vehicle gives you excellent handling, and it offers some additional performance features. You can get features like Brembo brakes, Bilstein shock absorbers, a sport-tuned suspension, and a limited-slip differential. The Mazda MX-5 Miata can get you from zero to 60 in less than six seconds. This vehicle has a performance that you have to try out for yourself.
Luxurious Interior
The MX-5 Miata is not just about performance. This vehicle also offers you a great interior and some impressive technology. You have interior options like leather upholstery, Nappa leather upholstery, Recaro sport seats, and more. You can also get heated seats in your MX-5 Miata.
When it comes to technology, the Miata offers you a 7-inch touchscreen, the Mazda Connect infotainment system, Bluetooth, a rearview camera, two USB ports, and keyless entry. You also have safety technology features like rear cross traffic alert, lane departure warning, blind spot monitoring, automatic emergency braking, traffic sign recognition, rain-sensing windshield wipers, and automatic headlights.
Clearly, the MX-5 Miata has a lot of great things going for it. This vehicle is an exciting one to drive and a fun vehicle to be in. Are you looking to upgrade to a new Mazda MX-5 Miata? This vehicle will be headed your way soon, and it is something to look forward to. If you have any questions about the Mazda MX-5 Miata, you can reach out to us at Seacoast Mazda for more information.