Mazda MX-5 Miata 100th Anniversary Edition Headed to U.S.
By jlambert | Posted in Mazda MX-5 Miata on Saturday, July 25th, 2020 at 12:27 pm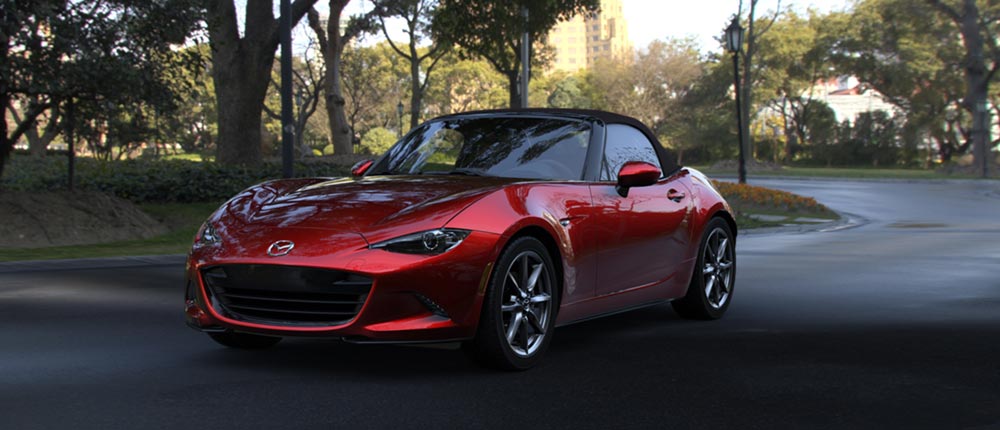 Mazda is celebrating 100 years of creating exceptional automobiles this year, and to mark the occasion, it is producing an updated version of its first production car: The R360 Coupe. The new Mazda MX-5 Miata has the retro markings of this early car, but a sleek, updated design for the modern era. It's a gorgeous sports car for any enthusiast, but an especially sweet buy for lovers of the retro Mazda.
Exterior and Interior Styling
Right away, you'll notice the similarities between the 2020 MX-5 Miata and the R360 Coupe. The new Miata has the same basic shape, with the same white finish and red top. The Miata has been stretched out slightly for a longer frame, and it has some smoothed out edges and sexy curves. Buyers can choose from the traditional soft top, or they can get an RF version (retractable fastback). The RF top comes in black.
The interior matches the red on the traditional soft top, and it includes leather upholstery and heated seats. Special edition badging is featured throughout the interior, as well as on the exterior, such as at the center of the wheels.
Powertrain
The special edition Mazda MX-5 Miata shares the powertrain with the 2020 MX-5 Grand Touring model. It has a 2.0-liter Skyaktiv-G four-cylinder engine that puts out 181 horsepower and 151 lb-ft of torque. Buyers have the choice of a Skyactiv-MT six-speed manual transmission or a Skyactiv-Drive six-speed automatic.
Models that are outfitted with the manual transmission will come with some other powertrain upgrades, including Bilstein dampers, a limited-slip differential, sport-tuned suspension, and a front shock tower brace. You'll enjoy fast, spirted performance that will make driving a true pleasure.
Technology and Convenience Features
Befitting a special edition, the Mazda MX-5 Miata will come with a lot of great technology and convenience features. The premium entertainment system includes a Bose audio system that will come through speakers mounted on the headrests of the driver and passenger seats. It can connect to Apple CarPlay or Android Auto for easy streaming.
It will also include automatic climate control. Given the Miata's history and the special nature of this MX-5 Miata, we're sure there will be a lot more great features to be announced. This is a special edition version of an already special vehicle, and we expect Mazda to pull out all the stops.
Visit Seacoast Mazda to get all the details about the all-new MX-5 Miata special edition as they become available. With this being a special edition, we expect it to sell out fast. Visit us to find out how you can be one of the lucky people to own this special edition Miata. Our friendly specialists will walk you through everything that makes this Miata special, including all its features and aspects of its design. Then we'll review financing terms with you to determine how to make this great Miata more affordable for your budget. Visit us today to learn more.